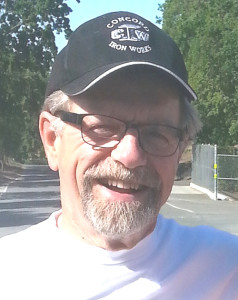 A first order of business: a large Thank You to Georgia T. Benedict of Benicia for her positive response to my column of last week, "Mad Dog & Bozos." It's always a pleasure to hear that somebody appreciates reading my column. We are a small town and this is a limited edition newspaper, but we aspire to great ideals. The current illegitimate president (small letters intentional), Mr. Trump has irritated me to the core since he was first debating the other Republican candidates. Nowhere near Presidential material, not even empathetic professional courtesy was his to fellow adults and candidates. Grammar school playground bully mouthings, nothing more. And the U.S. media seemed to eat it up. He was "good for ratings." It was as if the National Zoo and Trump Circus were open all year long, all manner of idiocy was prevailing. Then he became president! Not by my vote, I was and am totally still for Bernie Sanders and Elizabeth Warren and Kamala Harris and a handful of others that pop up occasionally. I'd love to have a female president, but the Hillary-DNC agenda was totally lame before Bernie negotiated it to have some progressive cojones.
Now after nearly a full year of Trumpisms, even Syria has signed on to the Paris Global Warming Accord or whatever it's termed, leaving the U.S. as a result of Mr. Trump as the only science-denying blowhard to both deplete the EPA while denying that fossil fuels burning effects the global atmosphere…Has he ever once read the NASA papers of Dr. Jim Hansen, the former NASA environmental scientist? Does Mr. Trump have any clue that there is a NASA?? May all of Special Counsel Robert Mueller's investigations come to fruition with further Grand Jury indictments in the next few weeks.
May all the complicit hackers of Vladimir Putin be fully exposed as well as those GOP members who have accepted campaign contributions from Russian-affiliated sources. Joy supreme that indictments have begun in this monumental Constitutional Crisis & charade.
Another reader of my column (who shall remain nameless) commented in the online Herald that I was "anti-American" in criticizing Mr. Trump and that I was no doubt "hating all Republicans," and that I was evidently a "Socialist-Progressive." I respond here that "I like Ike" Eisenhower was a damn fine Republican, some of my family may be Republican and that's their choice, and if the DNC and Hillary Forces played games with Bernie's overwhelming popularity in 2016, I reject any former affiliation I once had with the now today, desperately-lame Democratic party (unless one of the Obamas can find their way back to occupy the White House in 2020). Otherwise Bernie and all he represents will do just fine. Add Elizabeth Warren in the mix and Kamala Harris.
Cheers to all Readers & Writers, they're a wonderful mix, including Walt Whitman, Robert Frost, Jack London, Joni Mitchell, Neil Diamond, Paul Simon, John Fogerty, John Prine, Mary Chapin Carpenter, Herb Caen, Mark Twain, Billy Joel, Michael McNevin, Molly Ivins and a bazillion others.
With any luck I'll return after my current Tour of Duty as a rambling butterfly, Border Collie, or relative to Molly Ivins. I'll be checking my DNA in 2018 via Ancestry.com and keep readers posted as to what I find.
Peter Bray writes, works, and lives in Benicia
and has written this weekly column since 2008.