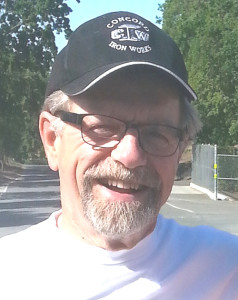 Column No. 536
How can time fly so quick, you say, when we're having so much fun? If my calendar serves me right this is approximately Column No. 536, starting at Christmas of 2008 with only a few months of Sabbatical thrown in for Rest & Recreation. Where to next, we say? Depends upon the winds and tides and pull of the moon. Write me at PetrBray@aol.com if you have any suggestions or comments. Thus far we've covered:
1. Early crossing on the car ferry from Martinez (1950s)
2. Growing up in suburban Walnut Creek
3. Squirrel and Blue Jay activities in Benicia
4. Cat Tricks (Big Henry, Dirty Harry Potter,
Otto & Joey)
5. Corporate Sled Dog activities
6. Songwriting & Poetry
7. Plumbing 101A- Toilets, etc
8. Saving The Lido
9. Handyman's Favorite Eating places
10. ME 131A & B at UC Berkeley
11. Other Subjects I've Forgotten
California Poet Laureate Dana Gioia (Bless his heart!)
He emailed me just Monday of this week to report that BBC Radio has published a documentary of his project to visit all 58 of California's counties and have some form of poetry event in each! And it's great listening! See it on: http://www.bbc.co.uk/programmes/b096g5lk
He was here in Benicia this past April 18 and beindazzled us all in the Dona Benicia Room at the City Library. Included in the documentry are live recordings of some of the various animated presentations and introductions and comments and in general: Poetry is Alive and Well in California!
He saw all 58 counties, but NOT in this alphabetical order:
Alameda, Alpine, Amador, Butte, Calaveras, Colusa, Contra Costa,
Del Norte, El Dorado, Fresno, Glenn, Humboldt, Imperial, Inyo, Kern
Kings, Lake, Lassen, Los Angeles, Madera, Marin, Mariposa, Mendocino,
Merced, Modoc, Mono, Monterey, Napa, Nevada,
Orange, Placer, Plumas, Riverside, Sacramento, San Benito,
San Bernardino, San Diego, San Francisco, San Joaquin,
San Luis Obispo, San Mateo, Santa Barbara, Santa Clara,
Santa Cruz, Shasta, Sierra, Siskiyou, Solano, Sonoma,
Stanislaus, Sutter, Tehama, Trinity, Tulare, Tuolumne, Ventura,
Yolo, Yuba
With respect to the Monday news of Las Vegas and Dear Tom Petty:
Emotional Waves
Emotional waves don't travel at the Speed of Light,
Murder and Mayhem sinking in may take all night.
Las Vegas horror and Tom Petty passing are horrendous
and unlike Central Valley Farm bovine gas passing.
I was immersed in a Creative Force riding that stallion,
the Poetic Horse, culling 300 photos down to 30,
(for last Sunday's Rosanna's Poetry Event)
not yet hearing the News, the foul and dirty –
My hearing insulation has grown immensely in two years
from Trump's idiotic Tweets,
to now slowly acknowledging that automatic firepower
high above Las Vegas streets.
Kick open the hotel glass panel,
terminate or maim the innocent many below,
psychotic firepower, closing out the Concert show –
While The Traveling Wilburys lose another star.
F'ing tragic! For what purpose?
What demented hellishness went wrong?
Petty at 66 may have been weary, tired,
burned out from touring recently.
But that hotel glass panel shooter,
what was his intent? Settling what score?
©Peter Bray 10/3/2017
Language Arts
I can give you the sounds,
I can give you the verbs,
I can give you the alphabet,
but you've got to write the words.
©Peter Bray 10/3/2017
Peter Bray lives, writes, and works in Benicia
and has written this column since 2008.