By Lois Requist

I MULLED THE QUESTION OVER A NUMBER OF TIMES while plodding 160 kilometers (approximately 100 miles) of The Camino, as The Way of Saint James is called, in Spain. Since 812, people have been making this pilgrim's passage by choice, or as a punishment for being found guilty of certain crimes. The stamps that current walkers get come from that tradition — a kind of proof that we had, indeed, trod The Camino.
Many famous people have walked it — kings, popes. James Michener walked it three times. The last chapter of his book about Spain, "Iberia," is "Santiago De Compostela: The Way of St. James." In it he speaks of "a half million" people walking the road each year. As a result, in 1130, "what is generally held to be the world's first travel guide was written at the request of the Church … by a French priest, Aymery de Picaud who lived along one of the pilgrim routes …"
The ancient path is as laden with tales and mythology as it is with rocks and dirt. Michener relates a story about one of the two Jameses referred to in the Bible as possibly the brother of Jesus, and the first martyr. He was beheaded. Legend has it that his body was found later with the head attached and mysteriously spirited off to Galicia, the part of Spain where James is said to have preached the gospel. According to this tale the body of St. James is buried beneath the cathedral at Compestela de Santiago.
There's no proof that the body actually belongs to the biblical James. Our guide denied only the story that James killed Muslims. "He was a peaceful man," she said, pointing out the various statues of James on a horse swirling a mighty sword in his hand, with which he was said to have slain the infidels.
Popularized in recent years by a movie, "The Way," starring Martin Sheen, the path to Santiago starts, for some, in France, Portugal, Italy or England, or wherever the walker chooses. Some walk several hundred miles. Many stay in hostels, carrying their necessary gear. Apparently some camp out, though I didn't see much of that.
People walk The Camino for a variety of reasons — religious, cultural, personal. My long-time friend, Juliet, invited me to do it in celebration of her 70th birthday. She'd been inspired by my 70th birthday trek of the Grand Canyon rim-to-rim with my children and grandchildren and two friends.
We spent a few days acclimating and sightseeing in Madrid. Then we continued on to Leon, where we hooked up with Fresco Tours, which would guide and take care of us throughout our pilgrimage, as everyone refers to it here. Fourteen people made up the tour group, all of them from the United States except two sisters from New Zealand.
While in Leon, I ran into a women whose leg was in a cast from the knee down. She'd been walking hundreds of miles. "We walked for ten days in the rain. It didn't stop. I tore my Achilles tendon."
I thought they would be taking the train home, but no. They would rest in Leon for 10 days. Then, they hoped, she would be well enough to continue. Such devotion!
Our first day, we walked five kilometers into O'Cebreiro, an 8th-century hamlet that Ferdinand and Isabella visited when they did the pilgrimage. They gave a chalice and a couple of gold pieces — small change for them, I imagine. These were the days when Spain was discovering and pillaging and plundering new worlds, bringing back the bounty to the royals of Spain. Anyway, I'm not sure O'Cebreiro has changed much in appearance, though it now has the Internet.
Typically on our walk, we ate breakfast and started off between 9 and 10 in the morning, stopped for lunch around 1:30 or 2, and finished the day between 4 and 5 at a bar, where everyone gathered for the van ride to our accommodations. In the Spanish tradition, dinner was at 8:30 or later. It was often close to midnight when we got to bed, with an alarm set for 7 a.m. and another day of walking.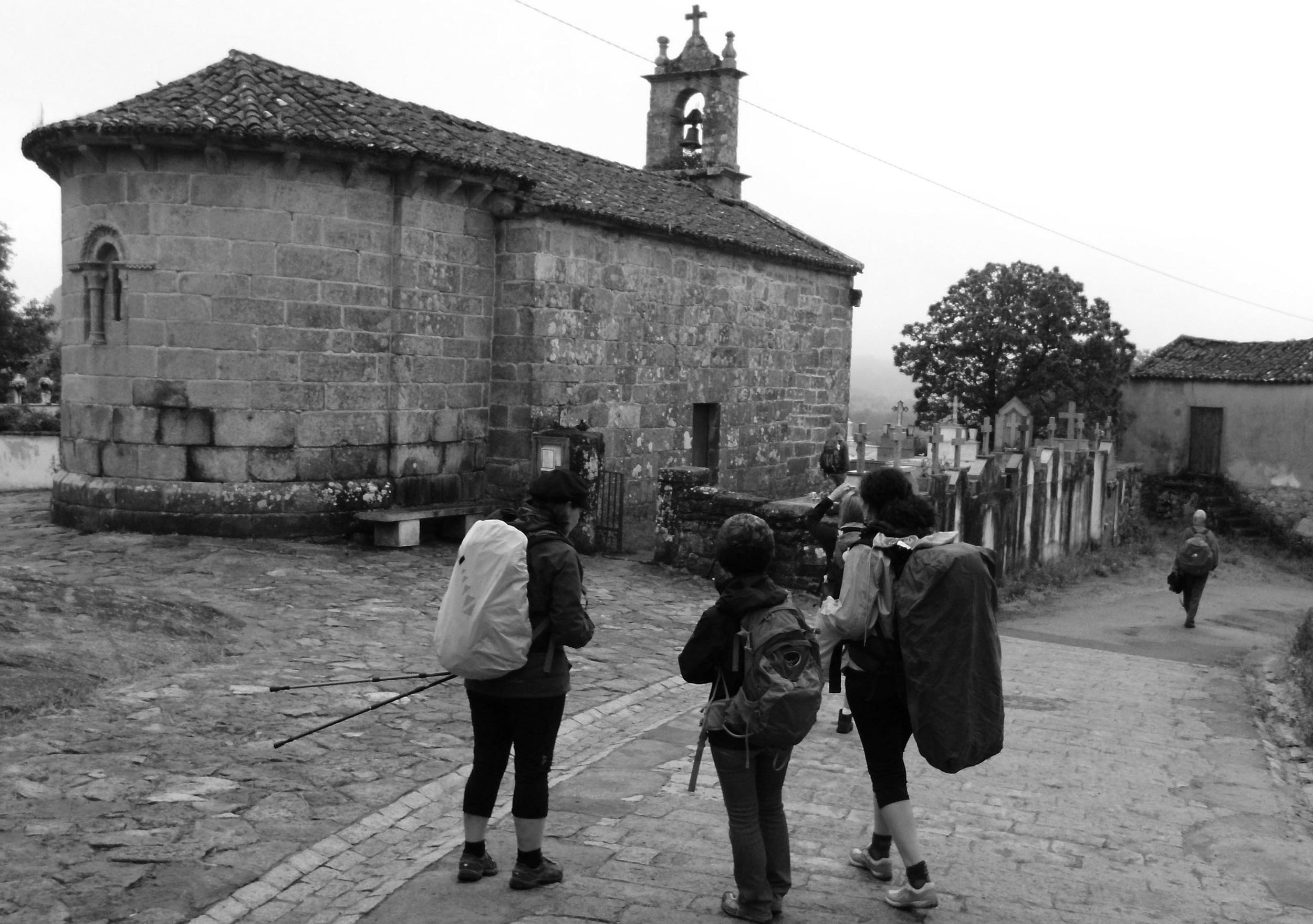 I took it as a personal challenge to hike every one of the 160 kilometers, even though we could jump into a van if we chose. I never did, but at times I was tempted. Consider: We hiked five kilometers one short day, then had eight days to hike 155 kilometers. It worked out to around 12 miles per day.
It was a pleasure to walk through the green Galician countryside. Wildflowers were abundant. So many flowers dazzled our eyes, from the wild blue, white and yellow ones along the path — sometimes whole fields of them — to the red, yellow, and pink roses at farms we passed through. We were never far from cow dung or the smell of it. Cows, sheep, bicyclists — all were encountered regularly. Sometimes the path was muddy or completely covered with water. We'd step from stone to stone through the wet stages.
We passed through stone villages where the buildings and churches seemed as old as the mountains. In the villages we saw women handling small rounds of cheese, drying them on an open window ledge from their kitchen. Yellow arrows pointed us forward constantly; we went astray a time or two, but always found our way back to continue up steep ravines and down slippery paths, along ways of concrete or asphalt or dirt and rock.
Besides our group of 14, plenty of others were walking. Many stopped at the restaurants, bars and coffee shops along the way, where backpacks and gear was spread everywhere as pilgrims rested, pulled off their hiking boots and did whatever else they needed before continuing.
It's punishing to walk that many miles day after day. Muscles and bones complain with aches and strain. The whole body groans. Sometimes I didn't sleep well, but I continued.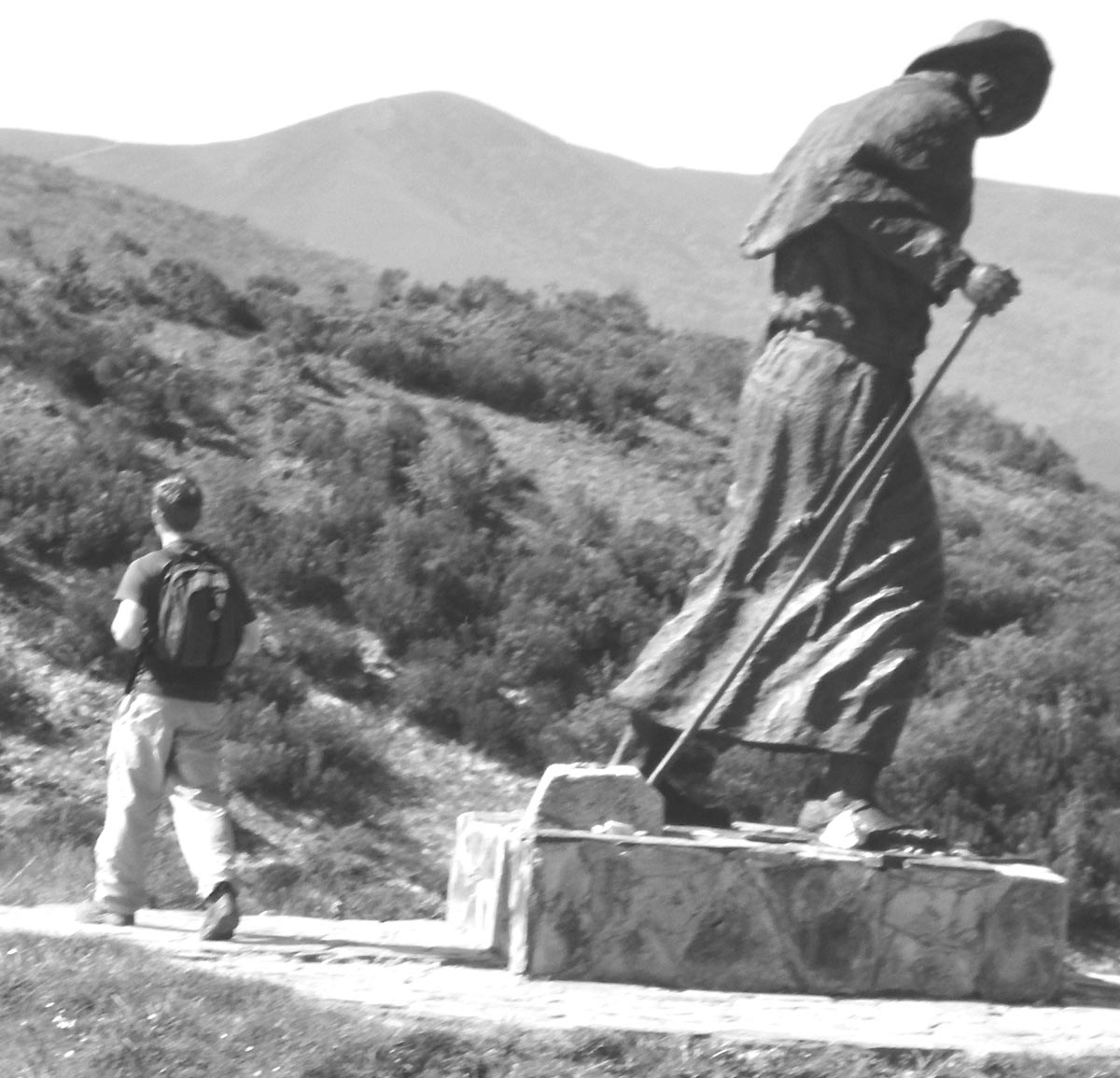 The many advantages to doing this as part of a tour: your bags are carried; you don't have to think about where you are going to sleep; the van, or "sagwagon," as it is popularly called, makes it possible to choose how much you walk. If you don't want to walk the entire way, you can opt for a second dropoff point, or board the van at various points, or not walk at all, as some members of the group occasionally chose. We were served luscious picnics, including the kinds of salads (that is, green) we were used to, in park-like settings along the way. Our guides told us the history of the area and the architecture of the various churches and monasteries.
I alternated between wearing boots and wearing hiking sandals — Tevas. When one of my hiking boots failed me — the sole separated from the rest — the guide found duct tape and fixed it temporarily. She went shopping for super glue and brought it to me. (Not sure it helped much.) The duct tape lasted for a couple of days. Then she loaned me her boots!
Our destination was Compestela de Santiago and its cathedral. The closer we got, the more pilgrims we saw. The cathedral is massive and striking. We stood in front of it, taking pictures and congratulating each other on our accomplishment.
To receive the certificate acknowledging that we had walked at least 100 miles of The Camino, we took our pilgrim's passport into an office set up for just that — sometimes the lines are long — to show our stamps and say why we had made the walk. Three categories are possible: "religious," "religious and spiritual," "cultural." I'd categorize myself as spiritual but not religious, if that really means anything specific to anyone. So I chose the middle category. They didn't question me very much, but gave me the certificate.
Later, in front of the cathedral, I saw a man and woman arrive. He was carrying a large wooden cross with a small wheel on the bottom of it, and a piece of lamb skin across his shoulder. I was told they'd come from England. I couldn't imagine walking that far with that cross. They soon disappeared into the cathedral. We talked to the man who was holding the cross for them.
"Actually," he smiled, "I'm Jewish."
You meet all kinds along The Way. But then, you do in life, as well.
The next day we had a tour of the cathedral and went to the noon Mass. The thurible, the large metal container in which the incense is burned, was to be used. I snuck away from the tour, knowing it was the only way I would get close enough to see the eight strong men dressed in red velvet pull the cord, making the thurible — apparently also called a botafumeiro — gyrate high in the air and then swing back and forth across the sanctuary.
Until this point, the audience had pretty much followed the request not to use cameras or recording devices of any kind. I was about 20 feet away and every person had some kind of device with which they were recording the show. It's pure theater and the audience loved it!
Lois Requist is poet laureate of Benicia.