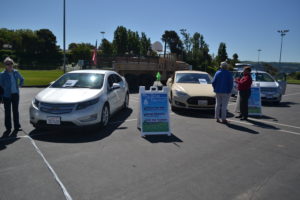 This Sunday is Benicia's Mini Maker Faire at Benicia Middle School. The city's technological Woodstock, hosted by Benicia Makerspace, will be returning for its third year to showcase the unique ideas of Bay Area makers and provide fun, interactive exhibits for the entire family. This year will include several new and returning exhibits, including a ham radio demonstration, a variety of vehicles designed by Vallejo's Obtainium Works and a paper airplane demonstration by the man who holds the world record for paper airplane distance.
One of the returning exhibits will be the Benicia Sustainability Commission's Clean Transportation Exhibit. Last year's exhibit featured displays of electric vehicles— including Chevrolet's Volt and Spark, Nissan's Leaf and Tesla's Model S— as well as the owners of those vehicles on hand to provide information. BSC commissioner Kathy Kerridge said last year's exhibit went very well, and attendees asked lots of questions.
"We really had a steady stream of people who came by all day, and we had several owners of electric cars there," she said. "People were able to ask questions about where they fill them up, how they operate, very practical questions like 'Where do you charge them?,' 'What kind of mileage are you looking at?,'How do you like driving them?"
The Model S, Volt and Leaf vehicles will be returning this year, and a new car will be added to the mix: the Honda Clarity Fuel Cell, a hydrogen fuel cell vehicle which was introduced in December and is still being rolled out in various markets. The one that will be on display at the Mini Maker Faire is owned by City Attorney Heather McLaughlin, who was the first person to buy a Clarity when it was delivered to the Northern California market in February when she purchased it at Dublin's Honda dealership. As with last year, SolTrans will have a bus on display.
Kerridge said people will once again be able to ask questions of owners and sit inside the vehicles to get a feel for the interior.
"We'll provide basic information about the advantages of driving electric vehicles and information about each of the cars we have there," she said. "We'll have information where people can go to other websites to get more information about the cars."
Due to the exhibit's location near the school quad, people will not be able to test drive the vehicles, although Kerridge encourages interested attendees to do test drives at other dealerships, like Team Chevrolet in Vallejo.
Kerridge, who owns the Volt that will be featured in the exhibit, believes that electric vehicles have a lot of advantages, including lower pollution and greenhouse gas emissions, cheaper maintenance and just being fun and fast to drive.
"They have incredible pickup, and they're very quiet," she said. "When I drive a regular internal combustion car after I've been driving my electric car, I sort of wonder why it's so slow because there's a big difference in the acceleration."
Kerridge said the market for electric vehicles is very big these days.
"People who drive electric, love it," she said. "I'm actually in the market now for my second electric vehicle."
The Mini Maker Faire will be held from 10 a.m. to 4 p.m., Sunday, April 2 at Benicia Middle School, located at 1100 Southampton Road. For more information on the event, visit BeniciaMakerFaire.com or keep reading the Herald.