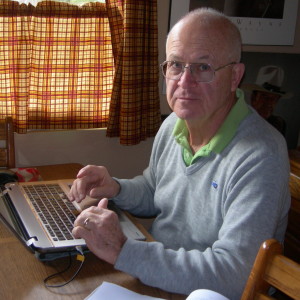 The following "letter" is part of the continuing series from the unpublished novel by James Garrett, "Benicia Letters Once More". He does not plan to publish the book but instead is choosing to share the letters with the readers of the Benicia Herald. The letters continue the storyline of Garrett's first novel "Benicia and Letters of Love". Each "letter" tells of love in one of its many forms from a separate point of view. Benicia is represented prominently in the letters because of Garrett's deep fondness for the city of Benicia. He hopes readers see themselves or others they know in the letters because the concept of "Love" is universal.
Dear Mr. Garrett,
Thank you for this opportunity.
For years there was a couple I knew and often saw around Benicia together. Then one died after a long illness and six months later the other died.
What love those two shared.
I wanted to learn more about them. It was more than curiosity. They had always been friendly with me and anyone else I knew who knew them. I wanted to learn how they had interacted in the community through the years and built the reputation they obviously held.
To find out more I asked some "old-time Benicians" and they told me much. By "old-time Benicians" I mean some who have called Benicia their home for 50 years or more, not someone who considers themselves "longtime Benicians" who have only lived here five or 10 years. That may seem supercilious to some, but it is how I feel.
To increase my knowledge about that couple I went to the Benicia Public Library with some key information I gained from my living history sources. I spent many hours looking in the newspaper film strips for anything I could find and I discovered a great deal.
Time-after-time photographs and articles concerning one or the other or both of those for whom I searched appeared. They were shown to be members of organizations, hosts for gatherings, heads of groups, and being political activists.
It was another time in a community which was much smaller than it is today, but what a good, well rounded couple they were.
They were always gracious, but I was too young to be invited into their adult functions and meetings. I sometimes wish I had been older so I would have had that opportunity. I would have been open for that opportunity.
That couple were two who helped establish what we have today here in the small town called Benicia. They were active in Little League, and other youth groups, active in establishing the municipal swimming pool, supporting political candidates, and stating their opinions of those with whom they agreed. They were solidly rooted Benicians who knew and understood the world as an entity and Benicia as a small part of that entity. I would like to sit and talk with them, adult to adult.
Newton
James Garrett is a lifelong resident of Benicia and a former teacher at Benicia High School. He is the author of the following novels: "Benicia and Letters of Love," "The Mansion Stories," "Chief Salt," and "One Great Season, 9-0!" He also compiled a three-volume work titled "The Golden Era: Benicia High School Football, The 1948 through 1960 Seasons, "A" History with Comments."
He can be contacted at jgstoriesnpoetry@aol.com.