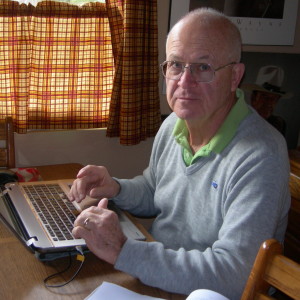 The following "letter" is part of the continuing series from the unpublished novel by James Garrett, "Benicia Letters Once More". He does not plan to publish the book but instead is choosing to share the letters with the readers of the Benicia Herald. The letters continue the storyline of Garrett's first novel "Benicia and Letters of Love". Each "letter" tells of love in one of its many forms from a separate point of view. Benicia is represented prominently in the letters because of Garrett's deep fondness for the city of Benicia. He hopes readers see themselves or others they know in the letters because the concept of "Love" is universal.
Hello Jim,
"Prince" was the First Street Dog. I didn't know that until you told me one day at school when we were seniors. The next day was Saturday and I walked down to First Street and saw you sitting with your father on the bench which used to be at the corner on First and "H" Streets by the parking lot of what once was Safeway.
That was the first time I saw Prince. He didn't have a collar or tags. He was simply "Prince the First Street dog" in a small town of 6,000. He understood he was royalty on First Street. No other dog roamed as he did.
He must have had some German Shepherd in him. He had that kind of frame and head. His entire body was black except for a white blaze which ran from slightly above and between his eyes to the back of his head and a patch of white on his chest. The blaze was about one and one half inches wide and seemed to be a guide point saying, "Pet me here."
I think petting always started there, and Prince acknowledged the contact as if it was his due. The contact with his head was usually followed by strokes along his body and scratching his back by the base of his tail. I liked that dog, but he may not have had a bath in his life. The first time after I scratched Prince my fingers felt a little strange. I looked at them and they had a patina of long gathered grime which had to be a collection of many years of Mother Nature's deposits.
If Prince felt like it, he would lie for a time by the feet of your father or anyone else who sat at the bench. He got up and left whenever he wished. At times he would merely acknowledge the presence of whoever had been at the bench and then move on in search for whatever dogs search.
For the few short years I saw Prince he would sometimes be walking on a sidewalk while slowly turning his head from side-to-side as if observing that all was well in his kingdom. One day I realized I hadn't seen Prince in a couple of weeks. Then I began to specifically look for him. Once I made a point of going from the top of First Street to the bottom and back twice hoping to see him. I never saw him again.
Prince was a "good 'ol dog." People liked him. To my knowledge he was never anything more than friendly. There was a lot in Prince which humans should emulate.
I hope his last days and moments were peaceful and that he had the warmth of someone of whom he was fond by his side. Some people may not have said they loved that dog, but some people missed him when he was gone.
Bud
James Garrett is a lifelong resident of Benicia and a former teacher at Benicia High School. He is the author of the following novels: "Benicia and Letters of Love," "The Mansion Stories," "Chief Salt," and "One Great Season, 9-0!" He also compiled a three-volume work titled "The Golden Era: Benicia High School Football, The 1948 through 1960 Seasons, "A" History with Comments."
He can be contacted at jgstoriesnpoetry@aol.com.