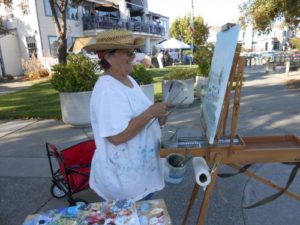 Birnbaum Realty is crusin' for a Susan…or two.
The First Street real estate office is home to a new art exhibition featuring the works of Susans Street and Johnson in a show titled "The Two Susans." In addition to sharing the same first name, both artists have a lot in common. Both are members of Benicia Plein Air Gallery and thus, both do a lot of their painting outside. They also utilize an impressionistic style in their oil paintings and capture images of a lot of Benicia landmarks with their brushes.
To get a glimpse of their similarities and even their differences in style, one can view their work at Birnbaum Realty. A reception is being held this evening from 5 to 7 p.m.
"The lively colors and familiar subject matter will win the hearts of all who step into this comfortable and welcoming office," both artists said in a statement.
Birnbaum Realty is located at 833 First St. For more information, contact Street at susanstreet240@gmail.com.