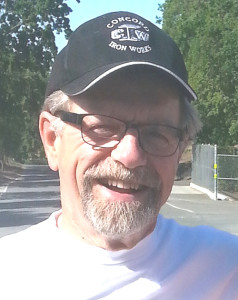 I am a White Cap
I am a white cap,
The wind blowing at my back.
I am a flashlight,
My light peering into
every crack.
I am technology,
Enough to know my cellphone
And computer.
I am my own poem,
Metaphors enough
To know the breeze that blows
And entertain
Myself.
Song for Ramona
I always wanted to
Write a song for Ramona,
As if she'd been a heartbeat
In my path –
Or the first girl, last girl,
Or longest curl
Of a laboring man
In steady need of bath.
But no Ramona ever surfaced
While I was breeching,
No matter how deep
Or long I dived.
I suppose in the end
It's all good fortune,
Ramona, I'm told:
We'll never get out alive!
Thermodynamic Curves
Here's to Leonard Farbar,
My first Professor
Of the Thermodynamic Curve –
Somewhere between the classroom
And ME Labs 131 A & B.
Enthalpy and Entropy
Were always on your lips.
Christ, I'm still unsure
If those were secret words
Or something to be eaten
Or avoided like
God's well-engineered,
Curvaceous hips?
Go, Berkeley!
Old Poet Remembering
With any luck new small poems
Will gather under you like chicks
Waiting to be hatched, looking
For a parent, crawling under you
For nourishment and warmth.
They will surprise you like
A new language
You don't remember studying
Or even signing up for.
With any luck,
You'll become obsessed,
Try publishing a first book and
If you don't lose your shirt,
Do it again and again.
Travel through three counties,
Maybe four, attending Open Mics,
Become a Featured Artist,
Once, twice, three times,
Win a few prizes.
Put aside some
Escrow money from your home sale
To finance your second book.
But be steady, keep your day jobs
Despite the convulsing economy,
Wrap yourself in your poems,
Your identity is unique.
It may not feed your cats at the door
But it will amuse you
When you least expect it
and last a lifetime.
Lifetime of Labor
They sentenced me
To a lifetime of labor,
They told me I could hum
To pass the time.
What I discovered
in the middle of my sentence,
Were adjectives and
The poets' crime of rhyme.
I discovered:
1. Most Pharaohs are dead.
2. There's a playground
In the back of my head.
I'd go there as often
As I could –
The knots and flotsam there
Weren't only made of wood.
It's been a long and
Arduous journey,
Some might say
An Odyssey of the Soul.
No Socrates or
Machiavellian hardships,
But some of my stuff
Even borders on Rock 'n Roll!
I Buy Jam
Daddy was a Hard Drive
Methane Jane
Dogfood Commercial
Buy The Farm
Two Right Shoes
I've Been Better and I've Been Worse
Bottom Back
Handyman Song #12
Only at High Tide
Ducks and Ammo
You and Fyodor and Change
Box Top Shop
Life's Just a John Prine Song
East Benicia Jail Song
Dogs of Poetry
Can't Find the Pharaoh
Laid Off American Man
Thermodynamic Curve
Bodega Bay Song
Colitis Blue
Song for Ramona
(Partial list,
many are on Youtube.com)
Sell a Lot of Popcorn
We made the engineers look good for years,
their reports, proposals, trade shows, ads,
corporate identity, Annual reports,
newsletters, magazines, the whole she-bang.
But Three Mile Island hit and the market
for NEW US Nuclear Power plants was OVER.
You could repair the old ones,
but NO New ones. Chernobyl and Fukushima,
they happened later, but they're on
somebody else's turf and Watch List,
they happened later, but they're still hot spots,
so go figure! But what to do with all those
3,000 staffers in SF where Cost-plus was no longer
the Modus Operandi? Adios, Muchachas!
So now we write our poems and do our songs,
do our flyers and ads for nonprofits,
websites too –
Oh, we're busy on social media and Facebook pages, from here to Zimbabwe. And give us a misogynistic, racist liar for a Not-My-President and mediocre droops for appointees? Naw, don't wanna do that, we're watching the radiation flow outa Fukushima too, you think Trump's Gutted & Decaying EPA gives a frog spit about Nuclear Radiation in Pacific Waters Headed to the Mainland? Let the salmon, cod, lobster and seafood industry deal with that. The Equator can boil first, the Dumbing Down of America is only allowed by a few. Impeachment & Imprisonment are gonna sell a lot of popcorn. Better change the sheets at Guantanamo too. Trump, Pence, McConnell, Ryan, better dump your Russian, possibly laundered money ASAP!
Peter Bray writes, works, and lives in Benicia.
He's written this column since 2008.