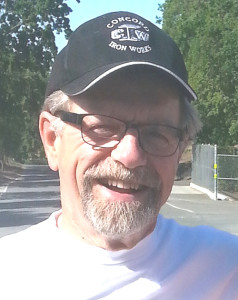 I used to be a three-county tinker, but I gave up Alameda County. It was just too far to go. I also gave up those under-the-counter jobs where your head and back are in the cabinet looking up at 30- or 40-year old fixtures and drains or garbage disposals in leaking and desperate need of being replaced, while your arse is cantilevered out in space 4″ above the floor held up by your lower back muscles connected to both flexing calf and thigh muscles and any sinews and fleshy joints still working at age 74. It was just a bit too much to go into Oakland to have all this FUN when I could fix a gate latch or leaning fence or install new closet shelves in Benicia, Vallejo, or Walnut Creek; AND lessen my carbon footprint and also aggravate our current faux- and grossly under-qualified President by posting snarky anti-Trump diatribes on my Facebook pages at early morning or late night activist hours.
Why waste gas despite Trump denying global warming? Has he taken any science classes in his lifetime? What if anything does the GOP stand for these days with that pathetic and useless TrumpCare Health Plan after 8 years of GOP planning nothing, and what became of the Democratic party? Who's in charge of that shambles now? Or will the "investigations"_on Trump ever come to a factual close so we can truly know whether or not he was "golden showered" by real Russian hookers in the night? Did Melania approve any of this, or was this allegedly during "working hours?" And how many of his family and transition staff discussed lessening the U.S. sanctions on Russia imposed by President Obama after Putin sallied his forces into Crimea? It's all just too much to contemplate! HOW much does Russia have invested in "laundered money" in Trump Towers, and why is Trump allowed to NOT have his possibly bankrupt holdings in a blind trust? Who's in charge of our election apparatus? Putin's team of hackers? Or Putin? Does the U.S. middle class and all we seniors have anything to say about all this or are we just pawns of the Kremlin too? Hey, George Washington and Thomas Jefferson, take a look at our federal state of shambles. Is this what you expected just 241 years after our Declaration of Independence? Will Trump's investigators eventually make us independent of Trump and Putin, or is The U.S. in a rathole of its own making?
Will President Donald "tweet" into North Korea and possibly tick off that other nutjob and those two under-qualified clods then terminate the known world as a diversion to advance further daughter Ivanka's retail sales agenda for Designer Clothing made in China and sold 9 to 5 with brunch in the White House Rose Garden? AND is her husband really doing something of note for the U.S., and what are his qualifications? Who vetted him? Are all the rooms in the White House available "For Sale or Lease" with potential oil drilling or fracking there or just in the national parks? I'm confused about so much "good" being done in the First 100 days. Is Air Force One available for others to jaunt to Florida for "weekend golfing vacations" or just Donald? Who, pray tell, is in charge? Of anything? (Post Script Tuesday: Trump has just fired his chief Investigator of Trump-Russia Collusion, FBI Director Comey. Further proof that Trump has learned nothing from Nixon & Archibald Cox. Stupidity prevails as expected, who will be next under the bus as Trump attempts to purge and/or Clorox his guilt with bus lane offerings?)
Peter Bray writes, works, and lives in Benicia
and has written this column since 2008.