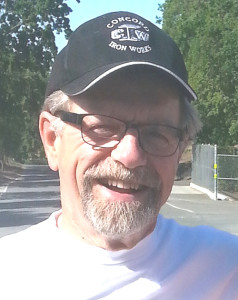 Poets' Conversations
JPL6's gonna be outa town,
So she asks TES, our Poet-Artist
To emcee the Benicia First Tuesday
Poets' Night Meeting for Aug 1, 2017.
Who in turn calls me, sayin',
"Can you make me a reminder poster
For the Flock, theme's gonna be,
'Writers, Poets, and Song,'
And can you sing something, too?"
I say, "Sure."
Then Gina e-mails me sayin',
"Can we do a duet?"
I say, "'Two Right Shoes,'
I'll color-code the parts."
TES sees another
Poem-graphic of mine and says,
"'Two Right Shoes in Concert'
Fits the bill, can we have it for
The front mobile, white
Announcement wall?"
I say, "Uhhhh…"
Then I call Office Max in Vallejo,
"$25 each, 24" x 36" in color,
Glossy, and send us a pdf,
They're yours in minutes."
I stop by there the next day
(24 hours before "Showtime, Folks!")
"FRINKING AWESOME!"
As they come outa the machine!
See ya Tuesday night,
15 minutes early
To rehearse and mount
2 killer posters to Front
Mobile White Announcement Wall–
So cool and Way Outa
My Comfort Zone,
that I may never crawl back
Until next week at Rosanna's
Or the Next Two Cool
Ekphrastic Events!
"Way Cool in Benicia!"
Poetry-Graphic Technology
LEAPS way forward!
Way Cool & Outa
My Comfort Zone
(Small Mouse Writing)
There's something magical
about two posters in color, 24"x 36",
on glossy stock, based on something
I experienced, lived through,
wrote about, edited for smooth clarity,
added photos that I saw, envisioned,
clicked my cell-phone-camera shutter,
added typography and color,
then sent them from my laptop
across the counter and wirelessly
to a technician and a software-churning
blackbox and then to another device,
it advances the paper roll,
and out they come, Christ,
they're big and gorgeous!
I'm a small writing mouse
and I dance with all this stuff!
I am An Old Boatyard
I am an old boatyard
not named for my mother,
my brothers are the hills
not that far away.
The waves come and pound us,
the rust just devours us,
artists take away whatever is left.
Some of us are sinking
while others' tears blinking,
we pray that bay moguls
just leave us alone.
The sun comes to warm us,
the seals call their magic,
while others feel our rusty bottoms
are environmentally just tragic.
Sea stories we all tell
of days in our glory,
of sea captains and ladies,
some salty and whore-y,
but now we just linger
like the wave-breaks we are,
home for duck landings
and seagulls from afar.
Peter Bray lives, works, and writes in Benicia
and has written this column since 2008.