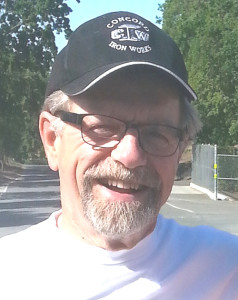 Paying it Forward
Went out to see a customer this morning, from what she explained on the phone, maybe I could do her work, or maybe I shouldn't. Turned out I referred her to two new sources, both younger than me, that will do her work just fine. We talked for the next hour on our origins that sounded much like cookie cuttings from the same lumps of hand-mixed and experienced-soaked dough. "Paying it forward," I said in closing, "just paying it forward. If I can make up for some of the disgusting, dysfunctional activity currently in the White House and around the world, so be it. We are stuck in a rut with a Conestoga wagon, damaged by science-denial and shallow, dimwitted-hatred and shallow greed, but we'll be repaired and rolling again soon. Guantanamo or Leavenworth will be a busy place when all the complicit weevils land where they belong."
Slicing Tomatoes
4 am playing, listening to
Chris Isaak in Australia,
George Harrison on Youtube,
singing Dylan's "Absolutely Sweet Marie,"
and reheating my Peet's Coffee
for 30 seconds and slicing tomatoes
from the front yard with salt
from a grinder on a paper plate
and toast with butter from
Whole Earth Foods in Walnut Creek –
It's a tall order and the
Old Crow Medicine Show too,
it's a tall order
for a Monday morning at 4 am
and the best part
if you can imagine it,
is the slicing of tomatoes,
slicing tomatoes you grew from the front yard
and I watered them too, the knife goes down
on a washed tomato and I remembered
in a flash all 34 years with you,
that tomato was that good and sweet
and red fleshy-tasty and Chris Isaak
is aways good, and
"Absolutely Sweet Marie" too.
What Do Poets Eat?
We should have a prompt
That says "What do poets eat?"
And after weeks of submissions
We can document our findings
"In dime stores and bus stations
And draw conclusions on the walls."
See if there's a concurrence
Of any kind like
"Cookies from Dairy Queen"
Or "Box Lunches from Barstow,"
Anything we might send to the FDA
Or EPA-Decaying or
CNN or to each other,
To bring to the WH in a hurry
To circumvent WWIII
Or the Korean Nut Job
Going into space prematurely,
His undies wrapped too tightly
Around his marbles
Or TRANSLUCENT missing parts.
Same thing with Trump-Dog-Orange,
No more Red Dye #6
In his Pig Lipstick, tea, or
Coca-non-cola!
Granmore Larsen's Kitchen Radio
Granmore Larsen's kitchen radio played in the background the summers I spent on their farm. Maybe it was 1955 or '56. Granmore was a force to reckon with, she left her home in Denmark at age 16, probably on a work permit to Oakland, California, to live with aunts and uncles already here. For six years she worked as a domestic in people's homes to earn enough to start a life as a young adult back in Denmark. There she'd marry Adolf Viggo Larsen, that handsome former Danish Cavalry soldier and promised him that if they would take the family to America, she would help him save for their farm. Years later she'd listen to political news on their farm's kitchen radio, where I first learned the names Estes Kefauver, Adlai Stevenson and then-Secretary of Agriculture, Ezra Taft Benson. "That Benson is no good for the little farmer," Granmore would say. And so I began my political awareness and identity as a lifelong Democrat. With the events of this past 2016 campaign I voted for Bernie Sanders, the Democrats' DNC agenda was far too lame without Bernie's input. I remain a Bernie supporter. Thank you, Granmore Larsen, for everything, including Farr and Mom and my four Danish uncles, but most of all, for being a far-reaching, constructive immigrant!
Peter Bray lives and works and writes in Benicia
and has written this column since 2008.