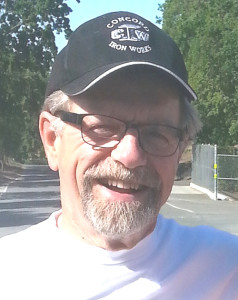 What does that mean? That's the List that the Lady of the House makes to give to her husband or significant other (or Handyman like me) as Chores Around the House TO DO ASAP. These in a lighter category can include:
1. Fix front gate latch.
2. Adjust the height of the exercise bike.
3. Replace the flapper valve in the downstairs toilet, it's "running" again!
4. Research, buy, and assemble a new backyard shed, 6' x 3' x 7'
(Orchard Supply has some great ones that are NOT 10,000 flimsy sheet-metal parts)
5. Replace the front and backdoor weatherstripping.
6. Touch up paint nicks in bathroom, semi-gloss on doors and cabinets.
7. Check all door latches, reset the striker plates so ALL doors all latch.
8. Install new deadbolt lock on the backdoor. (There has NEVER been one.)
9. Change bulbs in exterior lights over garage.
10. Replace motion detector light over side garage door.
11. Repair broken handle on Hot Water side of upstairs bathroom fixture.
12. Finish paint rework in master bedroom.
13. Replace/repair leaking faucet at clothes washer in garage.
14. Check cable fittings attaching to TV for looseness.
Reception "has been the pits" lately, call Comcast if necessary to re-send the signal.
15. Check lawn sprinkler heads for accumulated earwigs plugging up water flow.
16. WeedEat lawn edges, blow walks and flat areas, vacuum up loquat leaves.
(All these things And MORE are typically done by this columnist for customers
plus graphics and website support for two non-profits in town. Need services, Google me!)
Simpletonspath.wordpress.com
One of my customers (who wants to remain anonymous) was so pleased with my poetry a few years ago, she made me a website! In addition, in some cases, she had experience during her college days as a publications researcher, so she did Internet searches for toll-free photos to supplement-support my poetry. It's a hoot! Check it out. Here are some of the poems I'd forgotten I'd written:
Grief Came in
Grief came in
like a chainsaw, hacksaw,
SawZall and jackhammer to my soul –
Disrupted my bed, my head,
tossed around my furniture;
muddied up my days,
created a haze
that left me mute and cold.
I wept at Starbucks,
when there was nothing left to do.
I invented a way
of talking to my daughter Cathy
like she was still
riding on my shoulders daily.
I hugged her as I
fell asleep at Stony Creek.
Heaven is just another door
and window in my head.
I am now a breeze
and she is every feather
and tree I ever knew.
I hang on to my wife,
friends and family and pets
and my son Chris like he is
a rock in my River Earth
and I am a loose pebble
still tumbling.
©Peter Bray, 3/10/2014
All rights reserved
Bus Ride
Poetry is sometimes like
riding on a bus going nowhere,
until you find some sleeping,
homeless type in the back
smelling of urine and really
shabby clothes and as you
offer him your last apple
from a tired brown sack,
he quotes something brilliant
he wrote 40 years before
and suddenly you're his best fan
and vice-versa.
©Peter Bray, 11/21/2013
All rights reserved
Poems from the Edge of the Bed
I have no clue, they just arrive.
I lay here like a freight train
pulling into the station,
I hear the whistle from a distance,
hear the labor of the engines,
the bristling of the warm wind as it approaches,
the side to side rattle of the heavy-laden cars,
and I can't remember all the lines
or their destinations: east, west, south, or north,
so it's all I can do to get up,
go downstairs, put on the tea water,
fire up the computer
and write them down…
Or it's like working at a grocery store
and the goods arrive on the loading dock.
It's somebody's job to put them away.
Some are dry goods, some are cans and bottles,
some are fresh produce, and you can't
just leave them here in the dark in a box,
some have to go into storage,
some get trimmed of their transient debris,
and some get immediately stacked
on the shelves by either the day
or the night crews.
Tomorrow's gonna be another day
and people come by to buy this stuff
or stay away or go hungry
and there's plenty of both these days…
Or it's like being Zorro
working at some isolated
Intergalactic Way-Station
up in the frozen tundra –
I'm watching the weather station's
dials and gauges, manometers,
and thermocouple devices,
and suddenly the keyboard begins to tick.
Some kind of message is coming in,
what the F' language I don't know,
it's just arriving, but it's my job
to throw the switch,
listen to the numbers,
try to identify the codes,
and record it as fast as I can.
Somebody somewhere
is sending this stuff
and one day we're gonna find out
who that is and maybe make them
CEO, President, or just another guy
or gal sleeping under a bridge
with just enough clues and sense
to get out of local traffic
and also harm's way.
©Peter Bray 11/18/2013
All rights reserved
Peter Bray lives, works, and writes in Benicia
and has written this column since 2008.