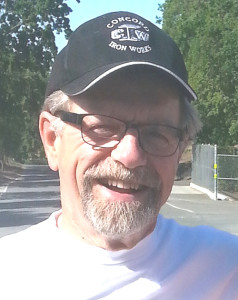 I was told it was cold on Jan.30, 1943 in Bryn Mawr, Pennsylvania, but I wasn't concerned. I was warm inside my mother, Karen Bray, when Kaboom, I was out and breathing on my own! Dad was stationed nearby at OCS, Officer Candidate School with the US Army-Air Force and the US was definitely at war with Germany and Japan. Into this mess, here I came, what little did I know? Bryn Mawr was the nearest hospital to where Dad was stationed in Pennsylvania. In a few short months we were enroute to home in San Leandro, California to live with my maternal grandparents, Adolf Viggo and Karen Marie Larsen while Dad went off to the war in Europe, part of the ground support for the P-38 fighters providing air support for US bombers chasing Hitler back into his foxhole in Germany.
Farr Larsen (pronounced "Fah" for "Father" in Danish) then owned a 1936 La Salle, 4-door sedan, medium green, and it was the "family car" for this interim period during the war. As I became a toddler and able to walk on my own, Farr would arrive home from work, drive down the driveway to the rear entry of our home at 98 Castro Street, San Leandro and wait for my arrival down the back steps. He would then open the front passenger side door, and I would climb in and ride with him the last remaining 60 or 70 feet to the garage in the 2-story barn at the back of the property. Such great fun! Above the garage Farr had his flock of homing pigeons in the loft and occasionally we would climb the back stairs to feed and/or release them to fly above everything in San Leandro! WOW! Their activity and loft noises were a source of wonder to young ears and eyes!
Late spring of 1945, and the war was nearly over. Dad came home but was disabled, Big Time! Mom and I went down the Peninsula somewhere to see him at the VA hospital and then rode the train to Utah to see him several times more for further reconstructive surgery (across the Benicia train bridge). Finally he was home! Life progressed in San Leandro with a new home, then in Walnut Creek, California with younger brothers Jim and Tom (Mike came later), and Farr and Granmore moved to their new farm in Orland, California, up Highway 99, north of Willows and west of Chico. The La Salle became their farm car, pulling the trailer to town for shopping especially during summers that I stayed there for a few weeks of summer fun with my older cousin David. The La Salle, what an awesome farm vehicle! Big and heavy and old, we ate ice cream cones in the back seat from the Blue Feather Ice Cream shop on one of the back streets in Orland.
By the time I was 16 on one of our many weekend family visits to the farm, where was the La Salle? Behind the metal garage covered with a tarp! "Farr, what's wrong with the La Salle?" I asked. "Oh, it needs a water pump, fuel pump, and a battery, I don't use it anymore." By this time I was hot rod kid in Walnut Creek, and had bought, worked on, and sold a 1950 Ford, was building a 1932 Ford coupe and was NOT about to let the old La Salle rot and die under a farm tarp. Seeing a great opportunity for GREAT fun, I asked Farr, "If I get it RUNNING AGAIN, can I have it?" The La Salle and I were great buddies from way back in San Leandro! "Sure," he said, "Check with your Mom and Dad." Off I went like a bullet to them and negotiated this new adventure. I was a good student and homework was NOT a problem, so they approved! YeeHaw! In a matter of weeks the La Salle was running and Dad and I were driving it home to Walnut Creek. Main Street Auto Parts in the heart of Walnut Creek found the parts I needed in a JC Whitney Catalog, I ordered them and paid for them with chore and lawn-cutting money I'd earned and we were up and running!
The reversed rims and tires from the '32 Ford fit the La Salle perfectly, and friend Dan Wharton and I got some discarded paint from his father's Auto Supply Store and soon the faded green La Salle was an Awesome Black with a Gene Winfield-inspired Heliotrope (purple-pink) narrow overspray along the entire lower body edge. The last 6 months of Las Lomas High School in Walnut Creek was slam-dunk fun picking up friends Gary Ding and Dan Wharton and cruising about town in The Very Cool '36 La Salle. Junior College started in the Fall and I opted to sell off all my hot rod stuff including the La Salle. BUT What a Ride that all had been!
Peter Bray lives, writes, and works in Benicia
and has written this column since 2008.