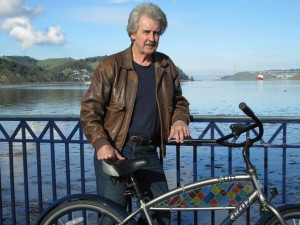 By Stan Golovich
Special to the Herald
I believe that cannabis can be regulated, taxed, and used responsibly by adults (21), just like alcohol, and that Proposition 215 patients in Benicia should have local safe access. Last November, 9,559 Benicia voters– 63 percent– said "Yes" to Proposition 64, also known as the Adult Use of Marijuana Act. It's quite conceivable a large number of those voters are cannabis consumers, acquiring either legally at an out of town dispensary, or from a local or external dark market merchant. This is sales tax leakage and unregulated taxable sales the community will never see any part of.
I would like to take this opportunity to educate the Benicia community about cannabis. I do not use words like "marijuana," "pot," "grass," or "weed," among others. I believe these terms are pejorative and used by some to indicate contempt or disapproval of cannabis, either as medicine or euphoric agent.
My first experience with cannabis was in the late '60s, purchasing a small match box of it for five dollars. I used it on a regular basis strictly for recreation until about the mid-'70s, when career and family obligations made cannabis use impractical. I did not experience withdrawal symptoms. I just quit one day, as I did with tobacco. I still remember the day I threw a pack of cigarettes out the window in disgust for falling prey to big tobacco pushing garbage on the public. Quitting alcohol followed that.
As a senior, my focus is on health, wellness, and longevity as a consequence of proper diet and regular exercise. Despite this regimen, the onset of aging-related joint discomfort was not to be denied. In 2005, my Kaiser clinician told me "your joints are collapsing" (I was wondering why my pants were starting to drag at my shoe heel). He prescribed Vicodin, and for the next four years I simply requested a refill online and it came in the mail.
During my early use of cannabis, I had heard and repeated the claims that it had medicinal properties specific to treating glaucoma, so the joke was that we were using cannabis to make sure we did not develop glaucoma. Eye care specialists today agree that cannabis consumption does in fact reduce intraocular pressure. That is why some people who have consumed cannabis have bloodshot eyes. The blood vessels in their eyes are dilated by the compounds in cannabis, resulting in a reduction of intraocular pressure.
Although cannabis is primarily known for its psychoactive trait, we are learning more through ongoing research about the other components of the plant that have demonstrated medical benefits in humans and animals. Biotechnology research scientists have been able to identify and isolate the psychoactive component from cannabis, but they are still developing the fingerprint of the whole plant, said to be in excess of four hundred distinct compounds.
I believe that someday we will have a complete fingerprint of the cannabis plant much the same as we now have the human genome mapped out. We will know what combinations of compounds are the most effective in modulating, palliating, and possibly even curing diseases in humans and animals. This is the foundation of my advocacy for whole plant cannabis as medicine, in addition to advocacy for industrial hemp as fiber, fuel and food.
In 1996, California voters approved Proposition 215, the Compassionate Use Act, allowing for physician-approved use of cannabis as a treatment option. Although some consumers are genuine patients who experience relief of a variety of symptoms, the aura of genuine medicinal benefits is tainted by the easy access of youth to the recommendation to use cannabis. "Pot Docs" sprang up all over California, where minors could obtain the recommendation to use cannabis, even those under 18, provided certain conditions were met. I believe, as many doctors do, that youthful consumption of cannabis could affect brain development up until the mid-20s.
In 2009, I had a conversation with my clinician about the long-term effects of Vicodin. I had been reading and hearing about seniors' relief from joint pain by consuming cannabis, so I asked if he would support a recommendation for me to try cannabis, to which he agreed. I joined a licensed dispensary in Sonoma County and was pleasantly surprised to find concentrated plant derivatives were available in gel caps, tinctures, topicals, and edibles. Presently, I use a topical cannabis product daily for joint pain relief, as well as an occasional cannabis-infused dark chocolate square with a measured dose of concentrated cannabis compounds. I no longer use Vicodin.
Despite different opinions about the efficacy of cannabis as medicine, I believe the community recognizes the economic potential of the coming California green rush of "cannabusiness", said to be a multi-billion dollar supercharge of the California economy, already recognized as the sixth largest in the world. Cannabis and industrial hemp production and processing will take their place alongside almonds and olives as premier California agricultural products. I believe the present Benicia prohibition on retail cannabis inhibits our opportunities for commercial operations related to the broad spectrum of ancillary businesses that support the cannabis industry. I am encouraged by the selection of former Pacifica City Manager Lorie Tinfow to be our permanent city manager. Pacifica is cannabusiness-friendly, with four retail establishments indicated by online search. I am optimistic that City Manager Tinfow will provide the leadership to end the prohibition, sales tax leakage, and unregulated sales of cannabis products and services in our city. About 63 percent of Benicia voters favored Proposition 64 last November, a convincing majority that should be sufficient to inspire political will to lift the blockade.
Stan Golovich is a 31-year Benicia resident, senior, veteran, artist, and cannabis advocate-educator. He is presently a Spring Semester student at Oaksterdam University in Oakland, America's first "cannabis college." He is the husband of former Benicia city councilmember Jan Cox-Golovich, and is often seen riding his bike on First Street, said to be the only bicycle in the world with a stained glass window in the frame, a product of his work in stained glass.