ARE CALIFORNIA SUMMER TEMPERATURE TRENDS different from the rest of the mainland U.S.? Let's look at the historical data.
The 119-year maximum temperature record for California summers is shown in the first chart, and for U.S. summers in the second.
Does the California record "agree" with the U.S. (year by year) over the 119-year period? Well, there are clearly major similarities and at least one major difference.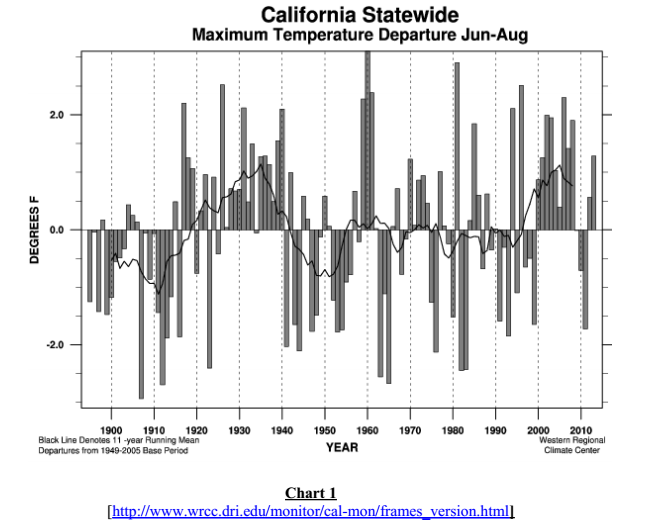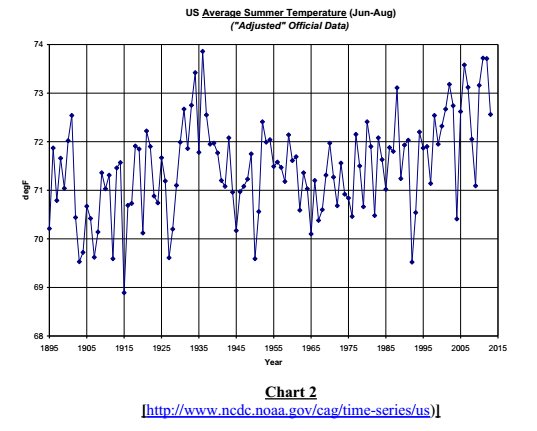 The 1935 and 2005 summer temperature peaks in California's WRCC 11-year trendline roughly correlate with the U.S. temperature record, which peaked in 1936 and 2010-11. There was a continent-scale summer warming that dominated these two historic periods across the U.S.
The first of the two periods clearly corresponds to the great 1930s "Dust Bowl" climate phenomena in the U.S. The second period is still the subject of great controversy among those who seriously study the physical basis of the Earth's climate system — but has lead to panic in some media quarters ("oceans will boil," "the end of mankind" and so forth). Great headline material — but very poor science …
In contrast, California's record-breaking 1960 summer maximum temperatures and the 1959-61 (three-year) series of peaks in California summer temperatures have no evident counterpart in the U.S. record. Clearly, around 1960 some factor within the Earth's chaotic natural climate system strongly increased California's summer temperatures — but didn't influence the entire U.S. to the same extent.