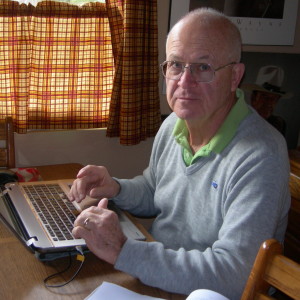 The following "letter" is part of the continuing series from the unpublished novel by James Garrett, "Benicia Letters Once More". He does not plan to publish the book but instead is choosing to share the letters with the readers of the Benicia Herald. The letters continue the storyline of Garrett's first novel "Benicia and Letters of Love". Each "letter" tells of love in one of its many forms from a separate point of view. Benicia is represented prominently in the letters because of Garrett's deep fondness for the city of Benicia. He hopes readers see themselves or others they know in the letters because the concept of "Love" is universal.
Mr. Garrett,
The love a kind old lady had for a boy who was about to graduate from Benicia High School never ceases to amaze me. The boy knew the woman as a nice person who lived near his home, but he didn't really know her. He saw her occasionally around the neighborhood or at Safeway, when that store was located where a home improvement company is now on First Street.
They would always say "Hello". She was born in another land, and at times he had a little difficulty understanding her, but she always got her point across. That's about all they ever said to each other aside from asking how each other's family was doing.
Graduations were held in the high school gym in those days. I walk by what is now the Civic Center Gym from time-to-time and thoughts of times in that still good-looking building come to mind.
The morning of graduation the twist bell in the front door of the home where the boy lived was rung, and he answered the sound. The nice old lady from the neighborhood was standing on the porch holding a package. She handed the package to the boy, told him it was a present for him, and wished him a happy graduation.
The boy must have been in a slight state of suspended animation, because he stood there for a couple of moments not knowing exactly what to do. He was surprised by the offering of a gift he never expected. Then he said "Thank you."
The woman told him he could open it then if he wished, so he did. The present was a short-sleeved, blue-checked shirt. Then the woman said she had to leave and they parted.
The boy made a point of wearing that shirt for many years.
I was that boy.
Terry.
James Garrett is a lifelong resident of Benicia and a former teacher at Benicia High School. He is the author of the following novels: "Benicia and Letters of Love," "The Mansion Stories," "Chief Salt," and "One Great Season, 9-0!" He also compiled a three-volume work titled "The Golden Era: Benicia High School Football, The 1948 through 1960 Seasons, "A" History with Comments."
He can be contacted at jgstoriesnpoetry@aol.com.