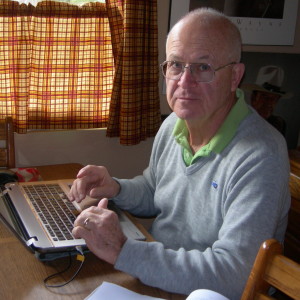 The following "letter" is part of the continuing series from the unpublished novel by James Garrett, "Benicia Letters Once More". He does not plan to publish the book but instead is choosing to share the letters with the readers of the Benicia Herald. The letters continue the storyline of Garrett's first novel "Benicia and Letters of Love". Each "letter" tells of love in one of its many forms from a separate point of view. Benicia is represented prominently in the letters because of Garrett's deep fondness for the city of Benicia. He hopes readers see themselves or others they know in the letters because the concept of "Love" is universal.
Hello Jim,
One ex-jock writes to another, Jim.
Whatever I was looking for in the basement the other day is now part of my file drawer of senility. I don't have a clue what I was looking for then. I do know what I re-discovered, my old baseball glove.
It is what we used to call a four finger style. That Lou Boudreau model was purchased for $10.15 at Fitzgerald's Hardware store. You remember that store. It's where the bike shop and art store are now.
That was a darn good glove. It played on 13 teams from the sixth grade through four years at Benicia High School and was used in P.E. classes those four years too. When I finally learned how to use it the glove made three different all-star teams counting summer league.
Over the years I oiled it and tied up the broken leather line when it broke. That glove had to have had some magic in it. That was the only way I could have caught one ball. We were playing at Vallejo's Wilson Park and a ball was hit right at me like a rocket. I saw the ball would be past me in a flash so I turned and started running where instinct told me it would go. I don't know how many steps I took but something told me to look to the left. It was as if the ball was hanging in the air and I was frozen in mid-stride. Then I reached out and pulled that ball out of the air as easily as taking a nectarine off one of our trees. It was the best catch I ever made.
So much of love of Benicia and baseball coaches who were good men and good for and to kids is reflected in looking at that glove. Al Ribeiro, Ray Macht, Al Casagranda, Tony Bento, and of course Barney Corrigan are all there.
I loved playing ball in Benicia and for Benicia. I probably would have loved playing baseball wherever I was at that time. I was a kid and it was the game we played the most when growing up. Still, my time was in Benicia.
Fitzgerald Field was a dust bowl then with areas interspersed with marsh grass, rocks, and even pieces of glass. If it rained hard during the winter or early baseball season, you could kiss good-bye a couple weeks of playing on that field. Sanborn Field was the alternate site. The right field fence at Sanborn Field was a gift to anyone who could hit a fly ball in that direction. From the foul pole to the first light standard towards center field was a double if you hit it over the fence. Anything left of that was a home run. I hit two good shots on that field. One hit the black top behind the auto shop which is now part of City Hall. The other hit the steps in left center field. The blacktop and steps are still there. A lot of players crossed the blacktop and a lot of fans descended the steps to Sanborn Field to watch football games. I'm glad the blacktop and the steps remain though Sanborn Field is long gone.
That was my catch glove when I was coaching. People laugh now when they see it. The glove is now propped up in a case with the thumb and fingers stuffed with plastic grocery bags to have them keep their shape. It is good to walk by it now-and-then.
Tomorrow I'll poke around in my basement a little more. Who knows what I'll find.
J.
James Garrett is a lifelong resident of Benicia and a former teacher at Benicia High School. He is the author of the following novels: "Benicia and Letters of Love," "The Mansion Stories," "Chief Salt," and "One Great Season, 9-0!" He also compiled a three-volume work titled "The Golden Era: Benicia High School Football, The 1948 through 1960 Seasons, "A" History with Comments."
He can be contacted at jgstoriesnpoetry@aol.com.