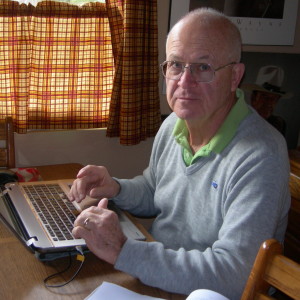 The following "letter" is part of the continuing series from the unpublished novel by James Garrett, "Benicia Letters Once More". He does not plan to publish the book but instead is choosing to share the letters with the readers of the Benicia Herald. The letters continue the storyline of Garrett's first novel "Benicia and Letters of Love". Each "letter" tells of love in one of its many forms from a separate point of view. Benicia is represented prominently in the letters because of Garrett's deep fondness for the city of Benicia. He hopes readers see themselves or others they know in the letters because the concept of "Love" is universal.
Mr. Garrett,
I thought I never saw my father smile. He loves Mom and us kids and gives us all he can, but I thought I never saw him smile. His work provides the income for a nice house in Southampton, and gave us kids all we needed or wanted, which spoiled the heck out of us as we grew. He does the same for us and his grandchildren now. He has always responded to Mom like a loyal puppy, but I thought I never saw him smile.
Dad hardly ever appears angry, though I've heard him swear using phrases and descriptions I've never heard before and which I sometimes have a hard time understanding.
There were times growing up when parents of my teammates or participants in whatever activity in which I was involved were very demonstrative at the end of the activity. A few times I felt hurt and a few times I wondered why Dad didn't act as many of the other parents did. I thought he must have been bored or didn't care. I thought he was just doing what was required of him at the moment at the event.
When I asked Mom about why Dad didn't smile she usually said, "Your dad is your dad, he smiles in ways you don't see. Look in his eyes."
I didn't get it. For years I didn't get it. Then one day I saw it in the way he looked at Mom. I saw it in his eyes. Later I saw it when he looked at his grandchildren. The smiles had been there all along just like Mom said. The smiles are always there. Dad just kind of stands in the background at times and looks, but if anyone gets to know him I think they will see he smiles with his eyes.
I make sure my children know and understand about my dad and his ways. Once when my eldest performed one of those feats which are so important in the development of the lives of young people, he looked at his grandfather, looked at me and then went on with the celebration. Later he asked me why Dad hadn't smiled and didn't seem happy. I reminded my son of what Mom had told me long before, "He smiles with his eyes."
Gene
James Garrett is a lifelong resident of Benicia and a former teacher at Benicia High School. He is the author of the following novels: "Benicia and Letters of Love," "The Mansion Stories," "Chief Salt," and "One Great Season, 9-0!" He also compiled a three-volume work titled "The Golden Era: Benicia High School Football, The 1948 through 1960 Seasons, "A" History with Comments."
He can be contacted at jgstoriesnpoetry@aol.com.