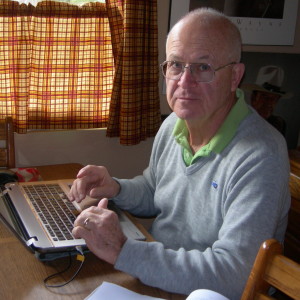 The following "letter" is part of the continuing series from the unpublished novel by James Garrett, "Benicia Letters Once More". He does not plan to publish the book but instead is choosing to share the letters with the readers of the Benicia Herald. The letters continue the storyline of Garrett's first novel "Benicia and Letters of Love". Each "letter" tells of love in one of its many forms from a separate point of view. Benicia is represented prominently in the letters because of Garrett's deep fondness for the city of Benicia. He hopes readers see themselves or others they know in the letters because the concept of "Love" is universal.
Hey Jim,
Well 'ol buddy I'll add my offering to the submissions you will receive for your new book. Maybe you'll print it. You know a whole lot about me, but I don't think you know about my first kiss. Anyway, I like the memories thinking of that time and a lot of times after that.
I got my first kiss sitting on a log at the small beach which used to be at the end of West Fourth Street. A number of houses have been there for the last few decades.
Allison was the cutest girl this child ever saw. The first kiss was just a quick peck which she initiated and which left me a little stunned. That was our seventh grade year.
I think Allison's mom liked me, but I think she liked you better. Allison liked both of us for awhile though you didn't seem to show much romantic interest in her. You two laughed a lot, but she married me and you and Roberta fell in love and got married.
When Allison died of breast cancer, I thought I would die. I had no desire to go on living without her. I've gotten better, but I miss her with an ache I can't describe. I know she is with me. Her spirit guides me. At times I turn, thinking she is there, and then realize she isn't. Sometimes I'll verbally ask Allison where something is or how to do something, though knowing she isn't there to answer.
Allison and I had so many good memories together even when I was dumb as a brick and didn't catch a clue on some things until long after I should have.
That first kiss led to me paying more attention to Allison. Later, when I asked her why she had done it, she said she didn't know why but had just felt it was the right thing to do at that time. After that little peck, she got up and said she had to go home. I walked her home. We didn't hold hands and there was no kiss when I left to go home. The kiss on the log, as she said, was just something that should have been done at that time and at that place. I don't even remember how we each wound up sitting on that log that day. All I remember about the scene is Allison and me sitting there and then the kiss.
I didn't know much about being with girls until our junior year, but Allison often popped into my mind and I always seemed to run into her. It finally dawned on me that I should ask her for a date. Allison accepted as if she knew I was going to ask all along. Asking her was easy. Her accepting was easy. We just seemed to match as we had since that first kiss on the log by the water.
Our first date was to a Friday night dance after a football game. It seemed we had always gone to the dances together. All the times before when we had gone to the dances we had danced even when she had been someone else's date. I had been a little nervous with other dates, but I wasn't with Allison that night or any of the times later. We were simply a match.
Eric
James Garrett is a lifelong resident of Benicia and a former teacher at Benicia High School. He is the author of the following novels: "Benicia and Letters of Love," "The Mansion Stories," "Chief Salt," and "One Great Season, 9-0!" He also compiled a three-volume work titled "The Golden Era: Benicia High School Football, The 1948 through 1960 Seasons, "A" History with Comments."
He can be contacted at jgstoriesnpoetry@aol.com.