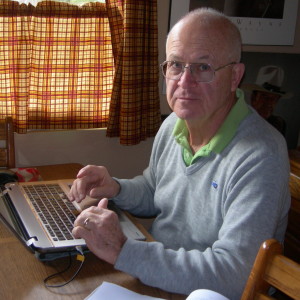 The following "letter" is part of the continuing series from the unpublished novel by James Garrett, "Benicia Letters Once More". He does not plan to publish the book but instead is choosing to share the letters with the readers of the Benicia Herald. The letters continue the storyline of Garrett's first novel "Benicia and Letters of Love". Each "letter" tells of love in one of its many forms from a separate point of view. Benicia is represented prominently in the letters because of Garrett's deep fondness for the city of Benicia. He hopes readers see themselves or others they know in the letters because the concept of "Love" is universal.
Mr. Garrett,
Our little girl grew to be a beautiful and successful woman with a fine family.
One night she stunned my wife and me with what she said. Our daughter was a senior at Benicia High School and was about a month away from graduation before some time off during summer and then going off to college.
She and the guy she had dated exclusively for over a year were about as nice a couple as any set of parents could want. He was friendly, polite, and always willing to help out. He was growing on me.
There were moments when my wife and I talked about the chance of him being our son-in-law after he and our daughter graduated from college. We weren't pushing for anything, but could see the possibilities of it happening. Our daughter and the guy seemed to get along really well. Neither my wife nor I would have seen anything wrong with him joining the family.
One Saturday night our daughter came home earlier than we had expected, and she was alone. I learned moments later the guy had walked her to our front door and left.
Our daughter had obviously been crying. My wife and I went to her and I asked her why she was upset.
Our daughter said, "He slept with her" and reached out to me. She cried as I've never seen anyone cry in my life. Her nose ran and added with teardrops on my shoulder much as the product produced by her burps as a baby had occasionally done.
I felt so hurt for our daughter. There was no anger toward the boy, just hurt for our daughter. The guy had no idea of what he had lost by giving in to his emotions with another girl.
My wife felt sympathy for our daughter and anger toward the boy.
There was nothing I could say to really comfort our daughter, but by Monday morning she seemed to have accepted what happened and was once again smiling.
She got home before I got back from work. I had been worried about how her day at school would be. I knew she had two classes with the guy, and would probably run into him some other time at school.
When I asked how things had gone at school, she said she and the guy had talked and he was sorry. She told him their connection was over, that she had never cheated on him in any way, and that she knew the girl with whom he had slept had also slept with some other guys and bragged of it.
Like I wrote in the opening sentence our daughter has done well in life. She did really love that boy and I think he really did love her in the way young people often love. Feelings of one were hurt and remorse was felt by the other.
Neither lives in Benicia anymore.
Sebastian
James Garrett is a lifelong resident of Benicia and a former teacher at Benicia High School. He is the author of the following novels: "Benicia and Letters of Love," "The Mansion Stories," "Chief Salt," and "One Great Season, 9-0!" He also compiled a three-volume work titled "The Golden Era: Benicia High School Football, The 1948 through 1960 Seasons, "A" History with Comments."
He can be contacted at jgstoriesnpoetry@aol.com.