Many familiar names are on the list of participating artists — so many that curator Robert-Jean Ray said in an email that while he did not have an actual count, "I can safely say that over 10 percent of the artists are from Benicia, or connected to Benicia." He added that the exhibit includes work from as far away as New York.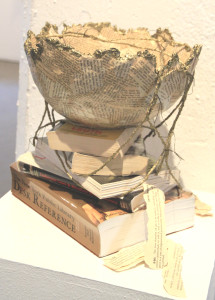 Ray himself is known for his micro-collage work. A curator out of Sacramento, earlier this year Ray had a show at Benicia's Rellik Tavern, and he has taught collage classes at Gallery 621 and Arts Benicia in addition to his work with Gallerie Renee Marie.

Both collage — art made by sticking different materials, such as photographs and pieces of paper or fabric, onto a backing — and assemblage — art made by grouping found or unrelated objects — are well-represented in the show, from pieces that are collage in the true sense of the word to wild assemblages of pieces of recycled wood, rubber, metal, bones and more.

"During the early part of the twentieth century, modern artists were using collage and assemblage as a means of getting from one point to the next; in an effort to break free from academic constraints," Ray wrote in his juror's statement for the exhibit.

"I felt that the pieces selected best represented the evolution of collage and assemblage. Traditionally, collage has been imagined as 'cut and paste.' Now, in the 100-plus years of its existence as an art form, I would say that 'layering' is a better visualization for collage and assemblage."

The evolution of the two art forms has led to a shift in focus, Ray said, toward the repurposing of discarded materials. It's a view that is reflected in many of the pieces in the show.

"I feel that as we, as humans, strive to navigate through the perils and uncertainty of the twenty-first century, collage and assemblage have become the most widely utilized stimuli for creative expression," he said of the exhibit.

"If viewers take the time to take in this show, I believe that they will acknowledge the work showcased in 'Fragments' best conveys the intent of those associated with the realization of this competition."

If You Go
An opening reception for "Fragments" will take place from 7-9 p.m. Saturday, with a special members' preview from 6-7 p.m. at Arts Benicia, 991 Tyler St., Suite 114.

Ninety-five artists are represented in Arts Benicia's latest show, "Fragments: The Art of Collage and Assemblage," which opened Thursday. An opening reception is Saturday.