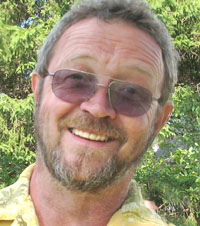 Welcome to episode three of "Four Old People Cross America's South in a Pickup." That would be me, Susan and our friends Gino and Patricia. Gino was driving his truck full of tools home to Philadelphia and we came along for part of the ride. Susan and I would fly home from Memphis after meandering through the south.
We pick up this week in remote Silver City, New Mexico, staring out at dawn through the lace curtains of the Palace Hotel. This was our first look at New Mexico.
Silver City is a small mountain town of 10,000 people living at 6,000 feet. Runoff down the slope floods the town so frequently that the sidewalks are built two feet higher than the streets. It is the home of Western New Mexico University and our four-person bedroom inside the ancient historic downtown Palace Hotel built in 1882, which hosts in the lobby a life-size oil painting of Jane Russell wearing a frilly red dress and packing a Colt .45 revolver. She hovers over all who head up the stairway.
This is where we would meet Gino's cousin, Tommy Morris, a bearded hippy who lives in a Sufi intentional community at age 67 with no kidneys and a home dialysis machine. We haven't seen Tommy since Gino's crazy wedding over 30 years ago.
Tommy came to Gino's Philadelphia tuxedo wedding wearing a ponytail, tie-dye and jeans, with a girl he met on the plane. "The invitation said me and a guest," he explained. Few in the Giambrone and Capone family even know Tommy.
Tommy was a life-long drifter and a merchant. He combined frequent long winding trips through South America with purchasing items for sale in his garment shops that moved with him from state to state. Now he was retired.
We called and talked to Tommy before bed. He was eager to meet up with us.
We called Tommy at dawn. No answer. Likely, no signal. We took a sunrise stroll along Main Street in search of breakfast. No cars. No people. Nothing open. The town was asleep on Monday at eight in the morning. We finally found Nancy's Silver Café, had huevos rancheros and called Tommy again. Still no answer.
We packed our bags, loaded the truck, still no answer. We took leather chairs in a craft beer pub across the street when it opened at 10 a.m. and had coffee. Gino wasn't bothered at all by the delay. "That's Tommy," he said.
We hung out and talked to folks for two hours. We were about to give up and head toward Austin when Tommy called. He'd been stuck in mud driving out of the commune.
He told Gino he'd be here in 15 minutes, order him some onion rings. "They have great onion rings there," he emphasized. He showed up and pushed through the heavy door with his cane. His wore a rumpled cotton shirt and jeans. His long dark hair hung loosely over his overgrown beard and a moustache that covered his mouth. "Gino!" "Tommy!" We all stood and hugged.
We sat and talked for three hours. Tommy told of his travels and described his primitive intentional village and the rugged road to get there. He liked how decisions were made as a group. Life was harmonious. Most of the residents were older and living on mailed checks.
I was intrigued by the intentional way Tommy ate his onion rings. He'd hold one up in his left hand and pinch it with his right thumb and forefingers making a figure 8. Then he'd dip it in ranch dressing, open extra wide to avoid the moustache, and tear the onion ring in half with his front teeth. Each onion ring went through the same procedure. I knew why. It was to keep the caramelized onion from sliding out of its batter shell. Ingenious.
Tommy was touched that we'd braved Silver City to see him. No one had ever come to visit him before. He has three daughters in the Midwest, but he visits them. They don't come to the desert with its outhouses and solely solar grid. There's not much to do in Silver City.
"I move my chair with the shade," Tommy said, smiling under his beard like Sam Elliott.
Tommy keeps a small apartment in town for his dialysis treatments. He has no kidneys. Not one. None. He lost them 12 years ago. Didn't say why. He lives alone in the rural desert at age 67. That's rugged individualism.
He offered to drive us up to see the commune if we didn't mind pushing his van through a few mud holes. We gracefully declined. We had interstate road ahead. We bid Tommy farewell and caught the road south to big Interstate 10.
Now we had a straight shot, I-10 right across Texas to Austin. We called Sacramento to my son-in-law, Chad, Texas born, to tell him we were approaching the Lone Star State.
"Great," he said, "but hey. I hear you're hauling a tarped truck. Stay the hell out of El Paso. They do checkpoints all over the place, not just on the border. Especially now. They'll make you pull everything out."
Google confirmed 24 possible checkpoints in the El Paso area. "Screw this," said Gino, and we turned off I-10 in Las Cruces and took a small desert road toward Alamogordo, New Mexico.
So we drove 100 extra miles to avoid truck inspections right into a national missile test site area. "Inspection Checkpoint one mile ahead."
The only exit led to the White Sands Missile Range. We sighed and drove up to the gate. Funny thing. The lone officer, who looked Hispanic in the headlights, didn't approach our truck. He asked only one question. "Are you all American citizens?"
Steve Gibbs is a retired Benicia High School teacher who has written a column for The Herald since 1985.