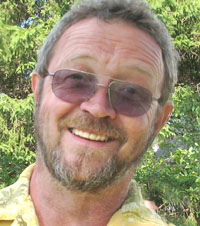 Seven months ago I wrote about pinball. It's a lifelong hobby of mine that I stepped away from for 40 years. I wrote about my history, pinball history, and brought them both up to date. I hinted that I was building up, saving up, to purchase my third pinball machine. Then I dropped the topic. It hasn't been mentioned since because I was still dropping nickels in my piggy bank, saving up for something to say.
Five months after writing about pinball we were sitting in my friend Gino's apartment in Philly waiting on Patricia to finish work. Susan and I had just returned from a blues cruise – which we booked again for next October – and were hanging with our east-coast friends.
Killing time, playing on my phone, I read news articles about California and its pending January pot legalization. A financial article predicted a stock pop. On a whim and a lark, out of restless waiting to go out and have fun in Philly, I flipped over to my stock thingy and bought some penny pot stock. Ha, ha, funny joke. "Hey, guys, look what I did."
Six months after writing about seeking my perfect pinball – Happy New Year – this whim-and-a-lark stock popped times eight and I cashed out and picked up the check. Now the gap is filled. I can afford to buy the machine of my dreams. So that's how that happened.
As yet, no machine has arrived, so I can milk this topic for another episode. It is still being manufactured brand new in Cicero, Ill. Delivery is promised "some time in February."
The dream machine is called… But first this historic filler:
My man cave is seven years old. I had high hopes of hosting fun-filled nights with friends sitting around shooting the breeze. Three couches and two recliners fill the room with my self-made walnut coffee table in the center, all over a cozy room rug. Soft lighting and music is designed to be backdrop for heated philosophical debates and opinions on world affairs.
None of that happened. Darkness and crickets ensued. We threw parties but everyone stayed upstairs where we have better couches and a kitchen.
Over in the corner of my man cave sit two old pinball machines, Joker Poker from the 1970s and Tommy from the 1990s. They take up a small portion of the room. I bought them cheap and immensely enjoy playing them. So do all my friends.
My man cave is dark on debates but lit up for pinball. During parties people flock downstairs to the machines. Lights are blinking and bells are ringing all afternoon. Fun, laughter, and camaraderie, all the elements of a happy man cave, fill the room. Last year I made a decision. The debate couches must go to make room for more pinball machines.
OK. You've waited long enough. The new machine is called… But first this sliding-door sidebar:
I almost bought a different pinball machine, Funhouse, a true 1990 classic, from Chris at Pinball Pirate in the Industrial Park. He's always got over a dozen machines turned on for free play to the public, if you're interested, and his mechanical skills are globally unrivaled. The security of his expertise makes buying 30-year-old hard-played pinballs a lot less scary.
Chris is also now a certified Stern dealer so you can play and buy brand new machines like "Ghostbusters," "Guardians of the Galaxy" and "Star Wars." As he pointed out while I was visiting and playing Funhouse, for a few thousand more dollars I could own a brand new machine. True, true, but I didn't have the money yet, and none of the Sterns were as yet my favorites. I've seldom played them.
"Well, start playing," said Chris. "I'm open all day."
After two hours of playing every machine in the building, I came home fuddled and befuddled. I liked several. My game space is limited, and so are my funds. New machines can go for eight to ten grand. A purchase of this size must be for something super special, a treasured one. And it'll take many more months to mound the mullah.
That's when the sun came out and my little whim stock shot to the moon. This altered my whole trajectory. Stern does make great machines. Someday I may get one once I find a favorite. However, this windfall may never come again.
I made a call to a Vacaville distributor for Chicago Gaming, their only one in California, and placed an order for their licensed remake of Williams' 1997 Medieval Madness, manufactured with state-of-the-art components and beautiful LEDs.
Why Medieval Madness? Because it's hilarious. Williams hired the comedians of Second City to write and read the scripts. Unlike most machines that repeat the same few phrases over and over again, MM has pages of smart-aleck remarks. Tina Fey is the damsel in the tower and an angry peasant. Why a remake? The technology isn't 20 years old and it cost less. Not buying from Chris would be too terrifying otherwise.
The main reason I like it is the ball action. Every flip sends the ball somewhere fun. By coincidence it happens to be one of top favorite pinball machines of all time.
When it arrives, gets plugged in and played, I'll post again.
Steve Gibbs is a retired Benicia High School teacher who has written a column for The Herald since 1985.