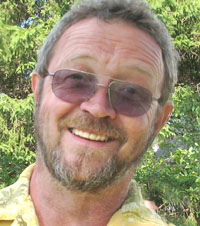 Anchors aweigh! The 2017 fall Legendary Rhythm and Blues Cruise around the Caribbean aboard Holland America's luxurious Nieuw Amsterdam has launched from Fort Lauderdale and is on its way to the islands of Curaçao and Aruba on a seven-day, 70-musician extravaganza adventure.
On board, besides 1,808 other blues fans from around the world and us — Susan, me, Carl and Deb Kittrell — are musical greats like Buddy Guy, Wee Willie Walker, Tommy Castro, Chris Cain,Taj Mahal, Keb' Mo', Booker T, Alvon Johnson, and on and on. They not only perform, they hang with us, party with us, and rub our elbows.
Where do I begin? So many stories to tell. How do I fit them all in without writing until June?
At this moment I'm sitting alone in my stateroom midday midweek trying to write. The cruise is only halfway around the Caribbean, but I felt the need to knock down some memories before they got away. So much is happening. I must offload thoughts to make room for more.
This will be the hardest column to write because I honestly don't want to be sitting here. I want to get back out there. Taj Mahal is singing just outside my door. Every minute I type, I'm missing music somewhere on one of the ship's dozen stages where performances overlap from morning until long after midnight. A person can't sit, stoop, or squat without missing something good. I consider myself an artist, but it is damn quiet around my keyboard.
Besides the contracted musicians, at least a third of the guests are musicians and they pack their instruments. Daily jam sessions and stage-sharing invitations allow everyone who wants to perform a chance to shine.
Carl brought his guitar and drumsticks. He jammed last night for two hours, and he's jamming right now.
Every day holds another belt-notch moment for me. Last night I stood next to Tommy Castro and listened to Booker T. Jones performing "Green Onions" live. Unbelievable. I sat next to Taj Mahal in the dining room and we ate jalapeño hot dogs. Our group made friends with Grammy-nominated guitarist Trenton Ayers from Clarksdale Mississippi and he hung out in our stateroom sharing riffs with Carl. We shook hands with the captain during a chance encounter on the elevator. Tonight we are having dinner with Bay Area local legend Alvon and his lady Karen. Who knows what will happen next.
It has been a life-long dream of mine to visit the Caribbean and spend time on a few tropical islands. I haven't been disappointed. We were in Curaçao two days ago, and Aruba yesterday, just north of Venezuela. We ate in inexpensive local palm-frond restaurants and walked untrodden streets beyond the tourist area.
In Curaçao we came upon an old bearded, semi-toothed man with a banged-up guitar sitting on a stool near the beach. When he saw us coming up the road, he broke into some Bob Marley "Get Up, Stand Up." We joined in and sang as much as we knew. He filled us with island philosophy. Live it. Be it. Don't let it get away.
In Aruba we walked along the beach among a mess of huge iguanas sunning and running. Over the blue ocean, pelicans were diving for fish. Hundreds of crabs skittered along the concrete breaker walls. We were all pleasantly sticky with perspiration and warmed from the inside out.
Each night has a theme. The first night was "Hometown Blues." Guests were asked to wear t-shirts that represented their own local blues scene. We wore "Straight Outta Oakland" shirts touting our West Coast Blues Society. So far we've met over a dozen people from the Bay Area. It's a great way to make new friends. Tonight is Halloween Costume Night. We shall wear cheap Super Hero capes from Six Flags. Wooo.
Our group was tagged as virgins. We are first-time cruisers. Many folks have been here before, and before that. Plenty have a dozen-plus cruises behind them. We've met several different women who have cruised alone year after year. They feel totally safe and let their hair down. As Gina, a solo cruiser, put it. "We may travel by ourselves, but we are not alone."
I'd say the average age on this mostly white cruise is around 50. We're gray, balding, paunchy, banged-up, scarred, withered, but still wild-eyed and bushy tailed. When I pass folks in the hall looking all dapper and groomed, but swaying from the waves and the contents of their sippy cups, wearing tye-dye shirts, funny hats, and exposed closed navels, I can't help picturing them 30 years younger. It's better that way.
The Legendary Rhythm and Blues Cruise (LRBC) is on its 29th voyage. Blues fans fly in from all over the world to board ship. Our cabin neighbors from Australia have come eight times. I reckon we will be back again as well.
I see the bottom of the page rising up to meet my words. That's great because Samantha Fish, Mr. Sipp, and Chris Cain perform in just a few minutes. I simply can't miss that. (Sign up at bluescruise.com) Love you all, but I'm outta here.
Steve Gibbs is a retired Benicia High School teacher who has written a column for The Herald since 1985.