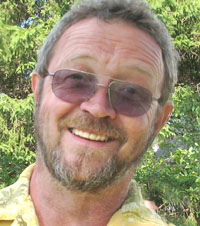 I feel like writing about creative writing. Ironically, perhaps, I've seldom written to this topic. I didn't teach creative writing either in 30 years at the high school, at least not directly. I taught journalism and literature. Objectivity was the creative mainstay.
I've shared a few fictional stories here over the years, usually around the holidays, but mostly I chronicle the real world as I wander through it. As recently mentioned, I uncovered a trove of lost and unfinished short stories that I wrote as a teenager, written for my own eyes only, and I decided to pull them out and give a few their 15 minutes, just the opening lines. I'm curious how they'll play.
As to process, for years I thought a writer must first think of a plot, and then write the story. Now I believe differently. I think a writer must create characters and let them develop the plot. That's about it.
One-paragraph story starters from the vault:
I remember the day my father was born. I was sitting against a stump in the garden tending to the family harvest and wondering if grandpa would pop up.
Another space carnival was landing on Earth today. Extraterrestrial visits have become quite frequent since our solar system was discovered as a rural shortcut between two interstellar highways. Most of my friends are gone.
In a truck stop outside of Logan, Illinois, a waitress dripped dishwater on her pumps as she watched a young punk walk in off the highway. He kicked his shoes clean at the doorstep before coming in. He was no punk. The waitress had poor judge of character, which was why she was still working there.
"Hold it, Buster, or I'll extract all the copper from your body."
Ray Fields owned 13 cases of identical purple sweatshirts and wore a new one to school each day, but kids thought it was the same shirt and teased him for the wrong reason.
The Reverend De La was steamed to the point of throwing his blue silk handkerchief toward the trash basket and missing by a mile. King Romolar lay dying in the royal bedroom and as yet the kingdom had no heir apparent.
Anna Ramsey was unable to find any reason to climb out from under the silk sheets on her canopy bed. All that awaited her was another perfect breakfast in her perfect kitchen.
"Harvey, wake up," said Mildred. "There are people crawling out of a hole in the backyard."
One day a gnat decided to call himself Louis. It was the first time a gnat ever had a name. All of a sudden, Louis stood out in the hip crowd that spun randomly under the street lights at the edge of town. Gnats would whisper when he buzzed by. "There goes Louis. Wow!"
"Where're you going, son?" asked Pop from his recliner. "Out," said Son. Just then the sun went out. "It's too late to be going anywhere now," said Mom from the quickly cooling kitchen. "You best wear a jacket," said Pop as his pipe went out. "Suppose so," said Son through frosty breath. "You best get our coats too," said Pop as he knocked ice off the fireplace logs. "Dinner's getting cold," called Mom from the kitchen.
Beyond the edge of the universe, in the lap of infinity, sat God upon a cloud and on God's lap there sat a small boy whose name was Jody Tubbs. Jody was there because he had a question. God encouraged Jody to let fly with his question.  Jody asked, "God, were you ever a little boy?"
"You hate me." "No I don't." Yes you do. And you use me." "No I don't." "Yes you do, and you think you're smarter than me." "No I don't." You do so, and you want everything your way." "No I don't." "You do, I say! And you think I ought to do whatever you tell me to do." "No I don't." "Yes you do. You know you do. You don't want a woman. You want an object." "No I don't." "Yes, you do, and you make me wear my green hat."
"Charles! Wake up! The truck has left the highway and we're crashing through a grove of oak trees headed for a cliff."  "I'm awake."
The children had to walk through a field of dead puppies and kittens to reach the mall.
Glorp threw his wide-open arms around the massive granite boulder. "My dear," he cooed to the stone. "I love you, and I'm going to take you away from all this."
Ralph was half asleep on the bus to Kansas City when a beautiful, young blond woman sitting next to him nudged him awake and said, "Excuse me. I'm sorry to bother you, but could you possibly sit a bit closer to me. I'm covered in goosebumps."
Steve Gibbs is a retired Benicia High School teacher who has written a column for The Herald since 1985.