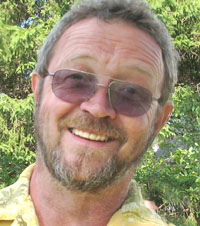 I've got pinball on my mind. I'm building toward the purchase of my third machine, but it will be a month or four before I flip. I intend to do deep research first. This is a big investment, and I have limited space. I don't want to mess this up. There are options to consider. I must also augment my pinball funds. I cannot afford to purchase a cheap machine.
If you were reading my column a few years ago when I went shopping for a smoker, you'll know it took me five weeks to make up my mind before I had an off-set welded for me by a guy in Vallejo, and the added bonus was that I got to study and share the world of smokers and smoking before closing the deal.
I've already started my focused pinball research. I realized months ago that I was wearing out my two machines — Joker Poker (1978) and Tommy (1994) — and eager for a change.
There are far more people who enjoy playing pinball machines than there are people who own them. Even fans with house space and money will often decline because old discontinued pinball machines need maintenance. Owning one can be intimidating to someone not electronically inclined. If you've ever peeked under a lifted play field at the mass of wires, circuitry, coils, and mechanical contraptions of unique design, it can be off-putting. Professional repairmen can cost over $100 an hour, and sometimes replacement parts are hard to find on discontinued machines.
But hey. How many car owners are mechanics? How many of us are washer dryer repair people? How many of us are not plumbers but own plumbing?
I used to build computers, but I know nothing about electrical circuitry or ball mechanics. I bought Joker Poker locally years ago from Chris Kuntz, the Pinball Pirate, who sells them out of his Benicia shop. He included long-term maintenance and was only a phone call and a mile away. Tommy I bought at Pin-a-go-go two years ago, and Chris is helping me do my own repairs.
I do enjoy research. One thing this column gives back to me is a reason to remain curious. I bought a few books on pinball history, and I've seen the documentaries "Tilt" and "Special When Lit."
It is easy to learn about pinball history. One or two good sources will fill you in. Learning what is going on in pinball today, however, is a whole new research project. One must search everywhere to get the full story.
There is a gap in pinball fandom among the same generations depending on where you grew up. If you grew up in a major city you may have had no exposure to pinball machines. They were illegal in many American cities from the early 1940s to the 1970s because pinball was considered a gambling device and controlled by the Mafia. I grew up in a rural Pennsylvania town that was Mafia run and we had pinball machines in every store. I played them right up to college. We as kids once counted 16 machines total in town.
Back to research. I again attended Pin-a-go-go in Dixon this May, three days of free-play on hundreds of machines brought together by fans of the sport. The best way to research machines is to play them over and over and see if you get bored, and how long does that take? Time and time again I've thought I had a favorite machine picked out, only to find a different machine later that I liked more.
Just last week I took my son, Adam, and grandson, River, to the Pacific Pinball Museum in Alameda where we played rooms full of pinball machines sorted by decade. Though I'm an old-school guy, I will admit that I enjoy the complex ramp-filled billion-point games of the 1990s, the final decade for pinball.
That's another reason for the fan gap. Gottlieb, Williams, Bally all went out of business in the 1990s, pushed out by Pacman and Space Invaders. As machines were moved out of bars and bowling alleys, they found their way into suburban basements and man caves. Die hard fans simply built their own collections.
So, what pinball machine should I buy?
Likability is paramount, but more factors exist, like resale value. The rare and popular machines appreciate the most. If you're lucky, you'll like a popular machine. However, popular machines are often complex loop-de-loops with animated gadgets prone to breaking down over time.
I've been talking with collectors. I mentioned my affection for ever-popular Scared Stiff (1996) with Elvira and her Deadheads to a collector in Dixon. He winced. "Love that game. I've owned it twice. Pain in the butt to maintain."
Stern and a few other start-up companies are making pinball machines again. I could buy new right off the assembly line with modern technology and LEDs out the wazoo. That would eliminate some of the maintenance and parts searches. I simply have to like one of the titles. Stern has Aerosmith, Metallica, Walking Dead, Batman, Ghostbusters, Game of Thrones, Star Wars, and such.
Those games are so popular that I've yet to play them at pinball shows. The lines are too long. My next stop is Phoenix Games in Concord. They have many Stern titles and some classics. Phoenix is also the Thursday meeting place of the East Bay Pinball League. I may time my visit to coincide.
Next week: How two acronyms in a Reddit response redirected my curiosity. MMR and AFMR.
Steve Gibbs is a retired Benicia High School teacher who has written a column for The Herald since 1985.